Residential Roofing Services
Professional Roofing Contractors in Sioux Falls, Brandon, Tea, Harrisburg, and Hartford, SD
Looking to conduct roof repairs or roof installation? T2 Roofing is your go-to roofing company. We understand your roof plays a crucial role in protecting you and your loved ones from the elements. This is why we're committed to providing high-quality residential roofing service in Sioux Falls and surrounding areas.
Whether you need to install a new roof or repair your existing roof, our qualified Sioux Falls roofing contractor will get the job done and enhance the appearance of your home.
Local Best Contractor for All Your Residential Roofing Needs
Installing a new roof is a big investment. Apart from protecting your loved ones and belongings, it also boosts your curb appeal. If done well, your roof can last for more than 20 years. This is why you should be careful when choosing roofing contractors.
When you hire T2 Roofing, you don't have to worry about unskilled contractors working on your roof. Our roofers are highly qualified in the roof installation process. From finding the right roofing materials to fixing the roof, we'll get the job done efficiently.
A strong and sturdy roof keeps you safe from the elements. But over time, your roof can begin to face issues like sagging, leaks, and more. When you have a roofing problem, you need to get in touch with us right away. Our quick repair helps mitigate potential damage and restore your roof before more serious problems emerge.
Storm Roof Damage Insurance Claim
Has your home's roof suffered damage from a storm? We can help you repair or replace your roof without breaking the bank. This is as long as you are up to date on your homeowner's insurance payments. Our roofing contractors will help you file insurance claims for hassle-free roof repairs and replacements.
How Our Roof Damage Insurance Claim Process Works

You can kick-start the process by contacting our roofing company. We'll ask our roofing experts to visit your home and conduct a free inspection to determine the extent of the storm damage.

Call Your Insurance Adjuster
If we find that there is a lot of damage to your roof, we'll ask you to call your insurance company and file a claim. When they come to inspect your roof, our roofing contractor will also be there to ensure everything runs smoothly.

Receive an Insurance Repair Estimate
After the adjuster inspects your property, they'll approve whatever roof work is needed and offer a repair estimate.

Our roofing contractors will conduct the necessary repairs to get your roof back to pre-storm condition. Upon completion of the work, the insurance company will pay us.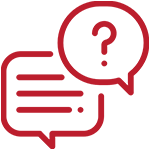 T2 Roofing takes pride in providing top-quality residential roofing services in Sioux Falls and surrounding areas. Our goal is to ensure you and your loved ones are well-protected with a durable roof over your heads. As a reputable roofing company, we show credible workmanship in every job we do.
Roofing Companies Near Me: Consult with Our Residential Roofing Contractors
Whether you need roof installations or repairs, T2 Roofing is here to help you. Fill our online form or call us on
(605) 553-3390
for a quick quote on our residential roofing services.